I know I'm a tad late to the game on
Macchialina
but I really enjoyed my first meal there plus I devoured enough food to justify posting about it now.
As soon as I walked through the door I was happy. Maybe it was the seductive smell of garlic and tomato sauce that was flowing throughout the room. Maybe it was the cool urban neighborhood vibe of the dining room and bar area. Maybe it was the warm welcome from general manager and co-owner, Jennifer Chaefsky. Maybe it was all of the above. Regardless, I was happy to be there and eager to try chef and co-owner, Michael Pirolo's food. My happiness didn't cease there. It continued to grow as I sampled dish after dish of delicious and inspired authentic Italian fare.
Chef Pirolo's food registered with me in a big time way. And that's because he's serving Italian "soul" food. But don't confuse that with comfort food. That would be a lazy disservice to the talented chef. Chef Pirolo has successfully put a gourmet spin on rustic dishes without sacrificing its soul. This skillful balancing act is not an easy thing to do. But he clearly knows his way around classic Italian flavors and ingredients and that permeates through each bite of every dish.
Macchialina
opened in June and is located on 8th Street and Alton Road. They are open for dinner six nights a week and currently offer a great daily happy hour deal from 6 to 8 pm featuring $1.50 oysters and $5.00 Peroni, prosecco and wine. You can also grab a pizza and a pint for $10.00. South Beach locals have longed for a neighborhood joint with a good happy hour scene, great food and reasonable prices. Hello Macchialina!!
Michael was born in New York but his family moved to Avellino, Italy when he was eighteen months old. Rumor has it, he was making gnocchi in pre-k. Okay, just making sure you're paying attention.
At the age of 21, Michael enrolled in I.C.I.F., in Torino, Italy. This led to apprenticeships at Michelin rated restaurants, La Voglia Matta, in Bologna, and Cafe Groppi, in Piemonte.
In 2003, he returned to New York and worked with chef Christopher Lee at Oceana, and then as a sous chef at Striped Bass and Gilt.
In 2007, he became chef de cuisine at Tutto Il Giorno in Sag Harbour, New York. Shortly after that he became co-chef de cuisine with Scott Conant at Scarpetta, NYC.
In 2008, he moved to Miami Beach to open Scarpetta at the Fontainebleau Hotel.
While at Scarpetta, Michael received an impressive
Four Star review
from the esteemed Miami Herald critic, Victoria Pesce Elliott. Missy Elliott recently awarded Macchialina
Three and a Half stars
.
Subsequent to dinner I had an opportunity to go Oprah on him and unleashed some riveting questions for my loyal readers:
1. Meatball Hero or Sausage and Peppers?
Sausage and Peppers.
2. Favorite parm?
Eggplant Parm is the only parm that exists in my eyes.
3. Favorite pizza topping, if any?
No toppings, give me a classic Margherita.
4. Pasta, fresh or dry and why?
I love them both, it depends on the application.
5. Favorite Pasta?
Paccheri.
6. Favorite Italian dish not on your menu?
Caccio e Peppi.
7. Sports fan? If so favorite teams?
Heat and NY Giants.
8. How many times have you seen The Godfather?
Countless times.
9. Land at JFK, time for two Italian meals, where are you going?
Scarpetta and the Saint Austere.
10. Table of Four you'd love to see walk into Macchialina?
Can it be a 5 top?
Sure
Sweet D, Charlie, Dennis, Mac and Frank Reynolds.
11. What are you serving them?
Milk steak- boiled over hard and Rum Ham.
12. Last time you had Chef Boyardee Raviolis?
Never, my mother loves me.
13. Favorite Dish at Olive Garden?
Never been.
14. Define "gabagool"
a mispronounced charcuterie, capicola.
15. You ready to rock a Cobaya Dinner??
If so, one dish tease up your sleeve?
Ready and excited. I love cooking tripe and risotto.
SOLD!!!
DINNER BELL
Upon arrival, I enjoyed an Italiano with Campari, lemon and prosecco, while ChowP sipped on spicy sangria. We also enjoyed the Frittura di Verdure from the snack menu. This featured lightly fried artichokes and zucchini along with a very tasty horseradish dip.
Once seated, we were treated to an "amuse bouche" consisting of a great combination of olives and roasted tomato sauce.
A standout dish from the snacks portion of the menu is the Grilled Country Bread paired with an addictive and creamy fontina fonduta. At $5.00, this is a must get during happy hour.


If you've been to Scarpetta, you know Michael knows his way around polenta. Here, he delivers an equally great rendition. His polenta is wonderfully creamy and topped with an awesome house-made sausage ragu and cipollini onions.
Michael's Tortino di Melanzane was an interesting twist on the classic eggplant parmigiana. Michael combined thinly sliced eggplant with a subtle amount of tomato sauce, smoked mozzarella and ricotta cheese.
One of my favorite dishes of the night was Michael's riff on another classic dish, the caesar salad. Michael's Broccolini al Cesare includes a parmesan dressing, a hint of anchovies and topped with toasted garlic.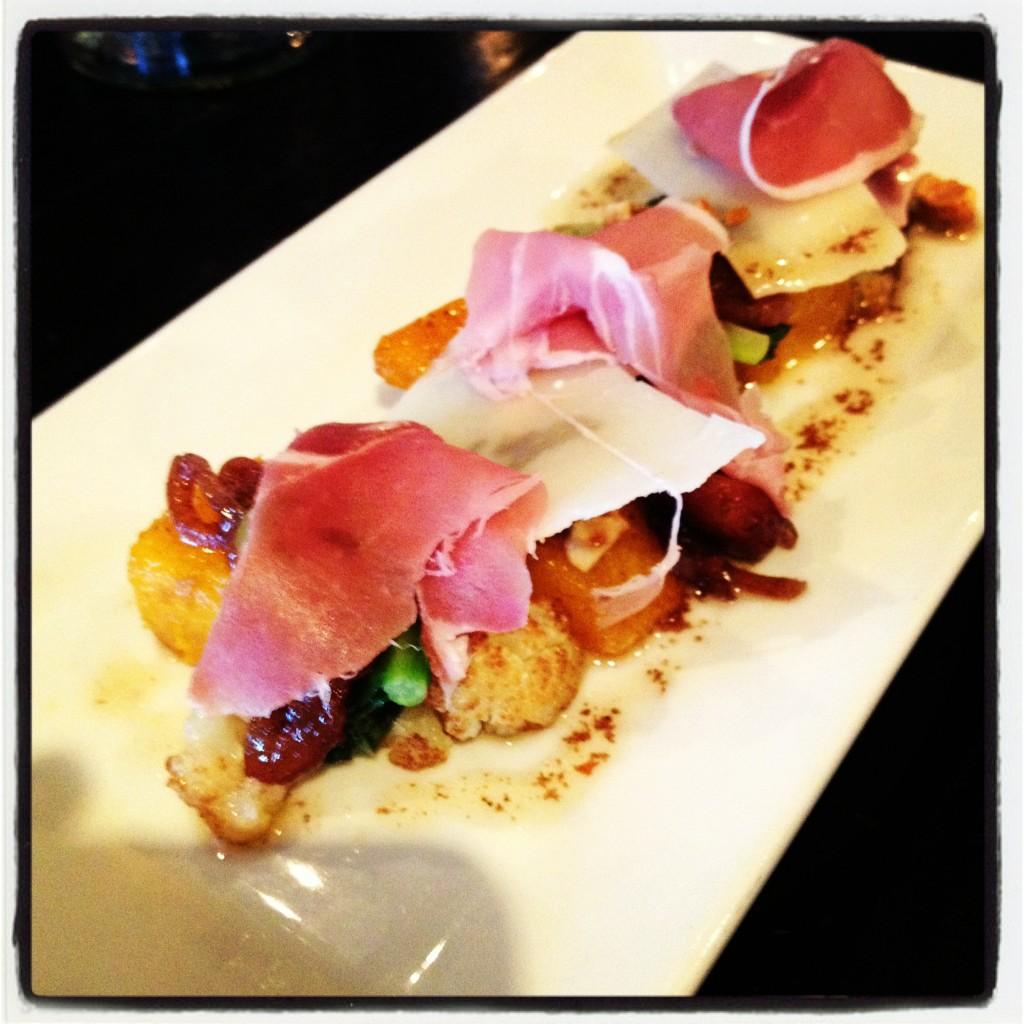 A Warm Butternut Squash Salad paired with kale, hazelnuts and topped with tasty slices of prosciutto was a unique and enjoyable dish.
The first pasta dish to hit the table was a slightly sweet and perfectly cooked Beet Filled Mezzaluna with hazelnuts, brown butter sauce and ricotta salata. This was a huge hit at the table.
Cavatelli Macchialina had my palate buzzing. The spot on cavatelli was topped with generous amounts of extremely tasty porchetta, pecorino and baby meatballs. This is last meal on earth worthy.
The pasta hits kept coming. A special that night and an absolute treat was an unreal house-made Picci Pasta with venison and port stewed plums.
I suspect the hearty Lasagna with short ribs and talleggio is a popular dish. The flavors were there but the overall dish was a tad too soft for me texturally. But I guaranty I'm in the minority on this one.
Despite being stuffed, desserts looked to good to resist. Macchialina's "Tira Misu" comes in a jar full of mascarpone, dulce de leche, lady fingers and topped with a refreshing espresso granita.
The Tira Misu was very good but the Banana Bread Pudding with Whipped Ricotta was outstanding and a the perfect end to a fantastic evening.
Macchialina's got soul! And I can't wait to go back and experience more of Michael's food.
My Italian grandmother who was a great cook would have loved chef Pirolo and his wonderful rustic Italian food.
820 Alton Rd Miami Beach, FL 33139
(305) 534-2124