Cobaya Miami
Experiment Number 51 took place on March 26, 2015. It was our first actual "underground" dinner as we dined beneath the legendary
Fontainebleau Hotel
at
Michael Mina 74
which is owned and operated by one of the best restaurateurs in the nation,
Michael Mina
. When you walk into a Michael Mina establishment you know you are going to receive first class service and a great experience. And Cobaya 51 was no exception. But Cobya 51 wasn't about Michael, it was all about his young and talented Chef de Cuisine, Thomas Griese.
Thomas is only 28 but has an impressive resume which includes working for Thomas Keller at Bouchon in Las Vegas and at The French Laundry where he trained under Corey Lee who recently received three Michelin Stars and is a James Beard finalist for best chef at his restaurant Benu. He also spent time in the kitchen at André Rochat's Andre's, Alizé at The Palms Hotel, and Le Cirque Las Vegas at the Bellagio. Prior to being the opening Chef de Cuisine at MM74 he was the Chef de Cuisine at The Setai.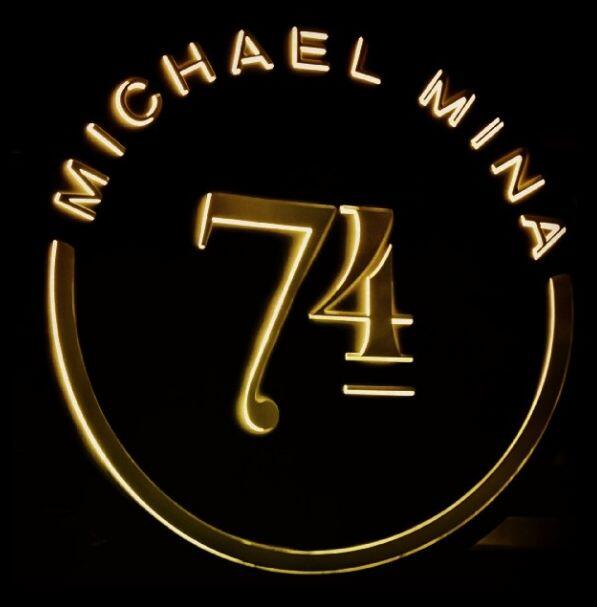 I was excited when I heard that Michael Mina was opening a second restaurant in Miami. Bourbon Steak is one of the best restaurants in town and also my favorite. I thoroughly enjoyed my first dining experience at MM74 and raved about it in my
First Date
post. I was very impressed with the overall experience especially the food prepared by Thomas. Yes, the Cobaya bell went off in my head. But for some reason, location primarily, Thomas fell off my Cobaya radar and so did the restaurant. A recent phone call from Larry Carrino of
Brustman Carrino Public Relations
changed all of that. Larry said he had a great young chef who was interested in doing a Cobaya and who he thought would be perfect, Thomas Griese. Being familiar with Thomas I abruptly cut Larry off and told him to connect me so we could get it done. Big thanks to Larry.
Planning this dinner with Thomas was a lot of fun and energizing. He's as passionate about food as they come. The initial conversation and subsequent texts and emails leading up to the dinner oozed genuine excitement. They made me smile and made my days. His enthusiasm is the reason why I love spending my free time organizing these dinners.
He embraced the concept and wanted to deliver a Michelin star caliber meal.
I must admit that I was a bit concerned that his excitement was going to hamstring his execution. But he's a super talented pro and he delivered a knockout meal from start to finish. His progression, flavor combinations and execution were spot on all night.
This meal was a winner in every way. Service was "Mina" proper, pacing was perfect and the sommelier,
Stankovik Zarko
(who joins the second Cobaya club following Cobaya Compton at Scarpetta) did a fantastic job all night with great selections and great pairings.
Huge thanks to Thomas and his entire kitchen crew. General Manager, Rogelio Flores and his front of the house squad and to all the guinea pigs in attendance and those who tried to attend. Your continued support and interest keeps these going strong.
Don't make the same mistake I made. MM74 should be on your radar. It's one of the best restaurants in town with a talented rising star in the kitchen.
Amuse Bouche: Kusshi Oyster, Truffled Yuzu Sabayon, Ossetra Caviar, Blue Sea Salt Bed
Delamotte Brut, Mesnil Sur Oger, Champagne , France NV
Thomas' tribute to the classic oysters and pearls dish at The French Laundry was an amazing start to the meal. Each great flavor came together for a wonderful first bite. The Delamotte was a delicious and perfect start as well.
Foie Gras and White Miso Brulee, Port Wine Reduction, Toasted Brioche
Château Coutet, Sauternes Barsac, France 2009
I'm a big fan of foie gras and this version did not disappoint. The creaminess of the foie combined with the white miso and port wine reduction were a delicious combination.
Escargot en Surprise, White Asparagus, Fresh Golden Morels, Cinco Jotas Jamon Iberico, Jamon Whipped Oil
Domaine Weinbach 'Schlossberg' Grand Cru Riesling, Alsace, France 2012
This dish included several great flavor and texture combinations. Escargot butter, earthy golden morels, tender white asparagus and incredible Jamon Iberico.
Hand cut Tagliatelle Pasta, Nantucket Bay Scallops, Nebrodini and Abalone Mushroom, Santa
Monica Uni, Shellfish Nage
Thierry & Pascale Matrot Meursault 'Les Chevalieres' Burgundy, France 2013
This was probably my favorite dish of the night. Perfectly cooked pasta paired with flavorful scallops and topped with creamy and fresh uni. Toss in tasty mushrooms and a flavorful shellfish nage.
Snake River Farms, Wagyu Ribeye Cap, Shallot Snow, Truffled Pomme Puree, Naststrium Leaves, Sauce Perigourdine
Long Shadows 'The Sequel', Columbia Valley, Washington State 2012
The last savory course of the night was another dynamite dish. I love wagyu and I love the ribeye cap. Thomas' wagyu ribeye cap was on steroids. I can't recall exactly what he did to this super steak but I know it was cooked sous vide with butter, thyme and aromatics then grilled and rested in buerre monte. I suspect this was a technique learned during his time at The French Laundry. That's irrelevant. All you need to know is that it was melt in your mouth tender and full of great beefy flavor.
Dessert Fantasy
Mango Custard, Candied Violet, Raspberry Gelee, Aerated Vanilla Ice Cream
Dr. Loosen Estate Riesling, Beerenauslese Mosel, Germany, NV.
Dessert was a fun table side presentation and a refreshing end to a wonderful Cobaya night.
4441 Collins Avenue
Miami Beach, FL 33140
Tel: 305.674.4636