This is a great opportunity to meet one of the best chefs in New Orleans and enjoy some great food and wine/cocktails.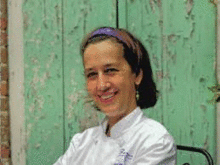 SLOW FOOD MIAMI
and Chef Norman Van Aken present
Terra Madre Day with James Beard Award Winner
Chef Susan Spicer
from New Orleans
to celebrate the Slow Food Miami Fountain
at the Miami Culinary Institute Gardens
with an exclusive food, wine and spirits experience
Monday, December 10, 2012 7:00 pm
Taste Chef Susan Spicer recipes from her award winning cookbook and New Orleans restaurants
Sip Signature Cocktails Courtesy of Grey Goose Vodka
Savor the Wine Pairings Courtesy of Vinecraft
Miami Culinary Institute
of Miami Dade College
415 NE 2nd Ave. Miami, FL 33132
Valet Parking Available
VIP TICKET $140
6:30 Cooking Class in Food Theater with Chef Susan Spicer
followed by Culinary Gardens Food, Wine and Spirits Experience
includes autographed copy of "Crescent City Cooking" cookbook
GARDEN EVENT ONLY TICKET $80
7:00 pm Culinary Gardens Food, Wine and Spirits Experience
GARDEN EVENT MENU
Grey Goose Signature Cocktails and Wine Pairings by Vinecraft accompanying:
Goat Cheese Crouton with Mushrooms in Madeira Cream
Crispy Smoked Quail Salad with Bourbon Molasses Vinaigrette
Prosciutto-wrapped Tuna with Olive Salad, Arugula, Ciabatta Toast and Lemon Aioli
BBQ Shrimp with Stoneground Grits and Smothered Greens
Turkish Lamb-stuffed Eggplant with Sautéed Kale
Chocolate Hazelnut Phyllo Turnovers with Dreamsicle Ice Cream
(menu subject to change based on garden & market availabilities)
ABOUT SUSAN SPICER
Susan Spicer began her culinary career in 1979, as an apprentice to French chef, Daniel Bonnot at the Louis XVI in New Orleans. After spending the summer of 1982 in Paris in the kitchen of MOF Roland Durand, she returned to take on her first chef position at Savoir Faire, a small French-inspired bistro. From there, Susan continued her education through work and travel and in 1986 opened the tiny, but soon famous, Bistro at Maison deVille in the French Quarter. In 1990, with partner, Regina Keever, she unveiled Bayona in a beautiful Creole cottage, complete with romantic courtyard dining. She went on to partner with former sous-chef, Donald Link at Herbsaint in 2000 (selling her partnership in 2008) and most recently opened Mondo, a casual, family-friendly restaurant in Lakeview, the neighborhood where she lives with her husband and two teenage stepchildren. In 2010, Susan was inducted into the James Beard "Who's Who of Food and Beverage in America". She continues to divide her time between the two restaurants, as well as being active in many community fundraisers and projects. She is considering her next move, which may be a new cookbook to follow up 2007's "Crescent City Cooking".

ABOUT TERRA MADRE DAY
Terra Madre Day is an annual celebration hosted by Slow Food International, where 150 Slow Food countries come together to promote good, clean and fair food around the world. There are thousands of events planned around the world on this day where people get together to share a meal, celebrate the culture of food, and eat sustainably.
ABOUT SLOW FOOD MIAMI
Slow Food Miami is the local chapter of Slow Food USA, a national non-profit dedicated to supporting good, clean and fair food for all. We support our local community from the ground up from the Edible School & Community Gardens we plant to encourage the enjoyment of food that is local, seasonal and sustainably grown; to the local growers and artisan food makers we support for their use of sustainable methods. Through culinary, educational events and fundraising we support our Edible School & Community Garden Program, and aim to also raise awareness of good, clean and fair food as a cornerstone of pleasure, culture & community.
ABOUT VINECRAFT
Vinecraft is an importer and distributor of artisanal wines from around the world. They choose growers and producers who offer unique, rare, or old vintages. Their wines are highly sought after. We are lucky to have a nice selection of Vinecraft available to us at our local Whole Foods Coral Gables.
ABOUT GREY GOOSE VODKA
Grey Goose Vodka has partnered with Slow Food Miami, an organization who is committed to connecting the community to locally grown food. Slow Food Miami recently awarded Grey Goose Vodka with the Snail of Approval Award for their extraordinary attention to the French farmers who harvest their wheat and sustainable standards appointed to the quality of production after work in the fields is completed. SIP RESPONSIBLY. www.greygoose.com | facebook.com/greygoose
ABOUT SAPIENT
Sapient Technologies is a top interactive agency located in Miami. In an effort to give back to their community, their top designers competed in a contest to design Slow Food Miami's first fountain. The winner was chosen by an expert panel of judges and the fountain will be unveiled in the Miami Culinary Institute Gardens. This fountain will remind our local up and coming chefs that fresh ingredients are the basis for the most delicious food.