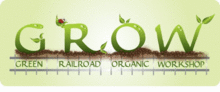 Urban Farm Dinner 5:00 pm Sat Nov 12th
Green Railroad Organic Workshop
Reuse, Reduce, Recycle...
Discover the possibilities of Urban Agriculture,
enjoy and learn how to prepare delicious authentic Vietnamese food at Miami's first urban farm built on abandoned railroad tracks by the airport.
Thi Squire, local urban farmer and your hostess for the evening, will give you a tour of her farm while you pick herbs and micro-greens. Enjoy a cool beer by Miami's Titantic Brewing Co. or chilled white wine while Thi shows you how to prepare the authentic Vietnamese recipes you will savor this evening behind the urban backdrop of the magic city.
All proceeds from the event will go towards Slow Food Miami's Edible Garden program. Tickets are $50 per person and can be purchased at
www.brownpapertickets.com/event/205682
Green Railroad Organic Workshop
2950 NW 74th Ave.
Miami, FL 33122