Day Two
Chow P likes to shop more than I like to eat. That's actually debatable but you get the point.
Chow P is very happy when she gets to shop. I am very happy when I get to eat.
Chow P is even happier when we go on vacation to shopping meccas. I am even happier when we go on vacation to food meccas.
We were both very happy on day two in San Francisco...
Our hotel was
intentionally
conveniently located on Market St. just steps away from the best shopping in San Francisco and probably some of the best shopping in the world. (not that I would know) Thus, we started day two
drum roll please
SHOPPING. I'm cool with it and I'm a sport because I know that when Chow P gets to shop I get to eat. Win win baby. That's how we roll. Besides she gets hungry when she shops, wink wink. Okay, I will not bore you with any more shop talk.
After a draining morning we were both ready for some caffeine. Ed a/k/a lax2mia, a trusted Miami food source who hails from the west coast told me that a visit to
Blue Bottle Coffee
was a must do. There was one located close to out hotel and Union Square (Mint Plaza) so that's where we went. Chow P and I both attended college in New Orleans so their New Orleans iced coffee was a no-brainer. The coffees were awesome and reminded us of the beloved chicory coffee served at cafe du monde.
It should be noted that Ed also recommended getting a maple glazed bacon apple donut @
www.dynamodonut.com
but we were unfortunately (sigh) never in the vicinity because that sounds insanely good.
SOMA
66 Mint St




San Francisco

,

CA

94103

www.bluebottlecoffee.net
After additional mannequin watching we were finally ready for lunch. The legendary
Zuni Cafe
was on our must do list and it appeared to be the perfect spot for lunch. It also opened up another dinner slot.
Let me start off by saying that I could eat lunch and dinner at Zuni every day for the rest of my life. I loved the space, I loved the menu and I loved the food.
Upon arrival, I was feeling good thanks to the lingering chicory buzz compliments of Blue Bottle. Fortunately, our table wasn't ready when we arrived so we got to spend some appreciated time at the bar. After perusing the cocktail menu I immediately ordered a Balsamic Bloody Mary. I've had my share of drinks thanks to spending several years in New Orleans and South Beach but I must admit that I've never had a Balsamic Bloody Mary. Zuni's version (are there any others?) was topped with a spicy pepper-onion relish. This was so surprisingly good that I finished it in three sips. What a start!!
While being escorted to our table we walked right past the oyster bar. Hello!! I quickly ordered a round of oysters, Kusshis from British Columbia, Pacific Hog Islands from Tomales Bay and Beau Soleils from New Brunswick. I intended on sticking to the Pacific but the Soleils were highly recommended by our server. I paired the very fresh and tasty oysters with a Pierre Moncuit Brut Blanc de Blanc grand cru champagne. This was a perfect combination and the way lunch should always be.
Ahh but appetizers are appetizers and there was a famous house-ground hamburger on the way. The Zuni burger is only served during lunch and late night thus adding to its appeal. The Zuni burger is served on a grilled rosemary focaccia bun with lettuce, garlic aioli, and pickles. Juicy but not overly, flavorful and perfectly cooked. This was an outstanding burger and easily one of the best I've ever had.
Chow P predictably ordered the classic caesar salad (okay, she's a caesar expert) which she enjoyed but didn't love. I lobbied for the house-made anchovies but she vetoed the order knowing we had dinner at Benu.
Again, Zuni is my kind of place and I'd love to go back to try their famous roast chicken with bread salad.
1658 Market St




San Francisco

,

CA

94102

www.zunicafe.com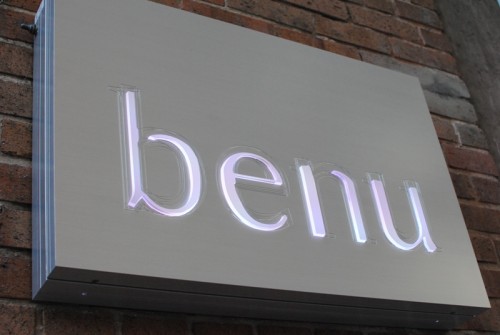 In a nutshell, our dinner at Benu was fantastic. It was easily one of the best meals I've had all year, if not the best and that includes visits to Alinea and French Laundry.
Benu wasn't initially on my radar since it only opened in mid August and I started planning our trip in July. I had local favorite, Frances, penciled in for our night two dinner from the onset and was luckily able to obtain a Friday night reservation. True to form, I continued to follow the SF dining scene post reservation and Benu was off to a promising start. As the positive reviews flowed in I knew I needed to incorporate Benu into our itinerary. The decision became a no-brainer following sommelier Matt T's rave review. With the new Michael Mina being locked in for night three, Frances became an unexpected casualty.
Benu is owned and operated by James Beard award winning chef, Corey Lee who spent several years as chef de cuisine at The French Laundry. It should be noted that Thomas Keller is a partner of Benu. He is obviously a shrewd investor...
The tasting menu sounded
great
amazing on our visit but Chow P wisely pre-negotiated going a la carte knowing that we still had Mina and FL upcoming so I reluctantly (and looking back sadly) obliged.
I'm unable to recall what the amuse-bouche consisted of but I do recall an explosion of flavor.
Although we bypassed the tasting menu, Chow P and each ordered several items in order to sample a wide spectrum of Benu's menu.
I started with the risotto comprised of butternut squash, celery, black truffles and topped with several pieces of phenomenal sea urchin. Holy shit!!!! Best dish ever caliber.
I followed that up with a big fin squid and pork belly dish that was served with eggplant, broccolini, onion and fermented pepper. The squid and pork belly were both of high quality and the supporting ingredients solidified the dish.
My last course was a beef rib cap paired with daikon, chestnut, and mustard green. I'm a big fan of rib cap and have had very good versions at Talula and Bourbon Steak. Benu's was cooked to a perfect medium rare and was packed with juicy flavor. The steak was very tender and the mustard green was a nice compliment.
Chow P started with parsnip soup combined with vanilla, dates, black truffle and celery. She raved about this soup all weekend and still does. I was able to steal a spoonful and it was delicious. It was easily one of the best soups we've ever had. She followed that up with an al dente cooked rigatoni with sea cucumber, oxtail, wood ear mushroom, star anise and red wine. Chow P really enjoyed this dish as well. She's a light eater so there was ample left for me to try. I really liked the combination of flavors and textures Chef Lee incorporated in this dish. The casual observer may regrettably pass on this dish because it's a "rigatoni" but there is so much more going on here.
Chow P impressively followed the rigatoni up with deer wrapped in bacon. "I'm no wimp" was proudly heard from across the table. I was tempted to counter with an "I love Chanel" but opted for the more subtle nod of approval.
I had my eye on this dish but happily switched to the rib cap after hearing Chow P utter the words bacon and deer. She's no wimp but she also doesn't have my belly. Thus, there was plenty left for me and it was equally as good as the rib cap.
Sommelier Yoon Ha was very friendly and helpful. He paired each dish with great wine (sake for the risotto/uni dish) and spent a lot of time explaining his selections. You could really feel his passion for wine. This is a sommelier who gets "it" and is most likely one of the best in the Country.
Benu is a very special place and a restaurant that should be on the top of everyone's must do list when visiting San Francisco. It's creative, cutting edge and Chef Lee's precise techniques shine through.
I suspect that Benu will be mentioned in the same conversation as French Laundry and Alinea in the very near future.
22 Hawthorne Ln (at Howard St)




San Francisco

,

CA

94105

www.benusf.com