Josh Gripper & Conor Hanlon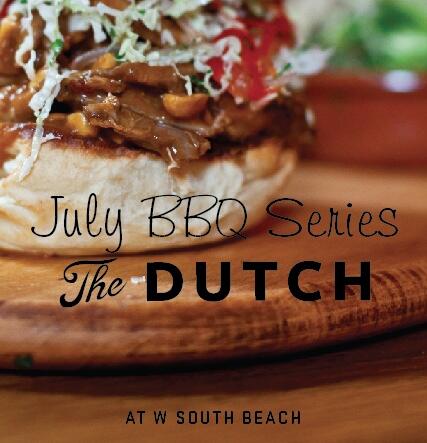 BOURBON, BEER & 'CUE RETURNS TO THE DUTCH
3rd Annual July Series Back and Better than Ever with
Guest Chefs, Entertainment and New Backyard Venue
It's back with a capital B! Bourbon, Beer and BBQ every Wednesday in July at
The Dutch
. This year chef Conor Hanlon has invited some chef friends to join him in the fun.
"We wanted to take our Bourbon, Beer & 'Cue series out into the open air this summer, so I invited some friends over to BBQ with me in Grove, The Dutch's very own backyard. We will have everything I love about BBQ'ing; cocktails, music, great food and classic outdoor games."
JULY 2 ALL-AMERICAN COOKOUT
Guest Chef: Jamie DeRosa, Tongue & Cheek
Apple-Brined Smoked BBQ Chicken

Smoked & Barbecued Mackerel Sandwich
with Bread & Butter Beet Slaw

Texas-Style Smoked Beef Brisket
with Slathering Sauce, Smoked Garlic Sausage,
Texas Toast & Baked Pinto Beans
Guest Chef: Brad Kilgore of J&G Grill
Beef Brisket with KC BBQ Sauce
Little Pulled Pork Sandwiches
JULY 16 THE DUTCH'S KOREAN BBQ
Featured Chef: Levi Raines, Sous Chef at The Dutch

Bulgogi Beef Skewers
Korean BBQ Pork Belly with Sticky Rice
'Jaepchang' Korean Stir-Fry
Selection of Housemade Banchan:
Kimchee, Cucumber Salad with Gochujang,
Sweet Potatoes with Caramel, Fish Sauce and Sesame,
Fermented Mung Beans, Pickled Daikon Radish Slaw
Featured Chef: James Seyba of Broken Shaker & Freehand Miami
Smoked Spare Ribs & Chicken Wings
with Panther Coffee BBQ Sauce
Collards with Shaker Bacon
Redneck Tacos - Hoecakes with Pulled Pork,
Nashville-Style Hot Fried Chicken with
Grilled Georgia Peaches & White Bread
JULY 30 BATTLE OF LA CAJA CHINAS

Guest Chefs: Aaron Brooks of EDGE Steak & Bar
joined by Jeremiah Bullfrog of gastroPod
Chefs Hanlon, Brooks & Bullfrog will prepare a surprise feast in their Caja Chinas

**Note:

Ticket Price for this date is $55 per person



(includes taxes and gratuity, beverages charged separately upon consumption)
Specials from the bar include $2 PBR Tall Boys; $3 Tecates fully dressed with BBQ rub and citrus; $9 Specialty Bourbon Cocktails; and $40 Summer Punch Bowls. All BBQ feasts include seasonal pies and sweets by pastry chef Josh Gripper.
The Dutch is located inside W South Beach Hotel & Residences, 2201 Collins Avenue, in Miami Beach, Florida, 33139. Please call
(305) 938-3111
or visit
www.thedutchmiami.com